August 10, 2018
With perfectly juicy, tender teriyaki chicken and the most amazing peanut dressing ever! It's quick, simple and perfect for a crowd!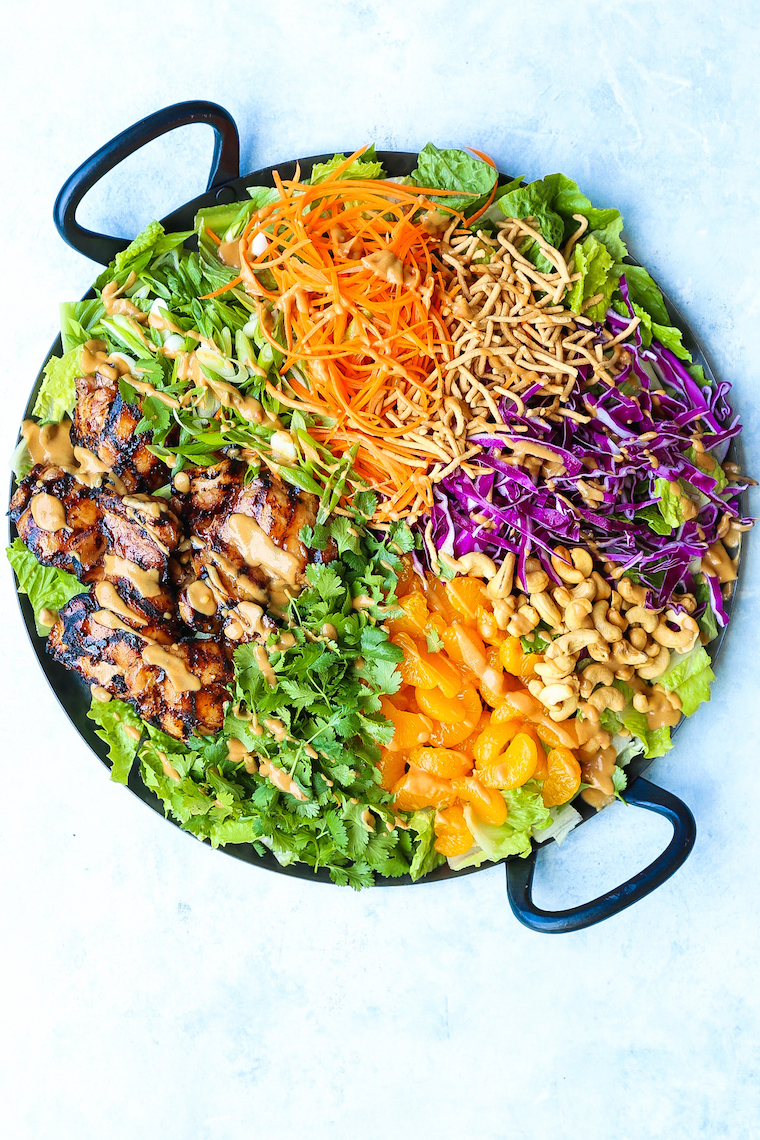 Now that we are smack-dab in the middle of summer, it can only mean one thing.
It's grilling season! And Walmart is the perfect resource to grab all of my summer needs. From their antibiotic-free chicken to their local grown produce, I can find everything I need for this gorgeous Asian chicken salad!
The chicken is combined with a simple teriyaki marinade (homemade or store-bought is fine), which is then grilled to perfection.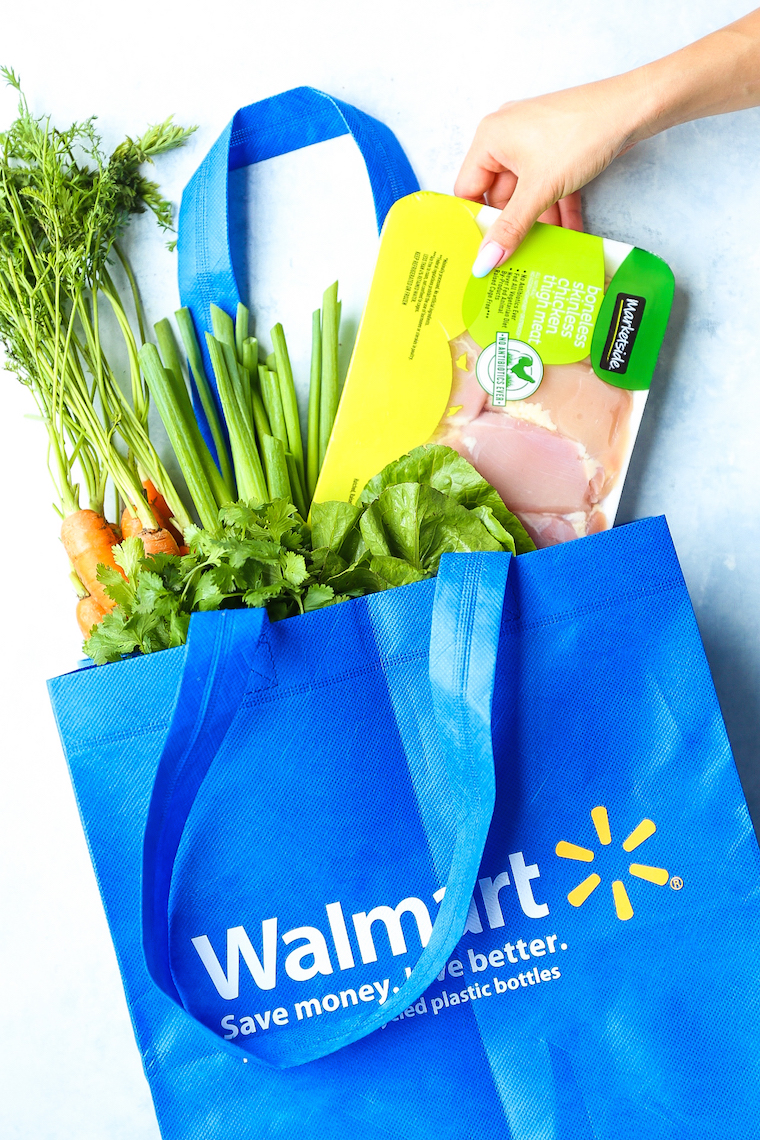 It's juicy, it's tender, and it's packed with so much flavorful. Not to mention, it has the most perfect grill marks. Side note: if you don't have access to a grill, you can use a grill pan on the stovetop but note that it will get super smoky!
From there, we have all of our fun goodies – from the romaine lettuce to the shredded cabbage, carrots, cashews, cilantro, green onions and my two big time faves – chow mein noodles and mandarin oranges!
It's so stinking easy, you can serve this up for a large crowd for easy entertaining, or you can whip this up on any given weeknight!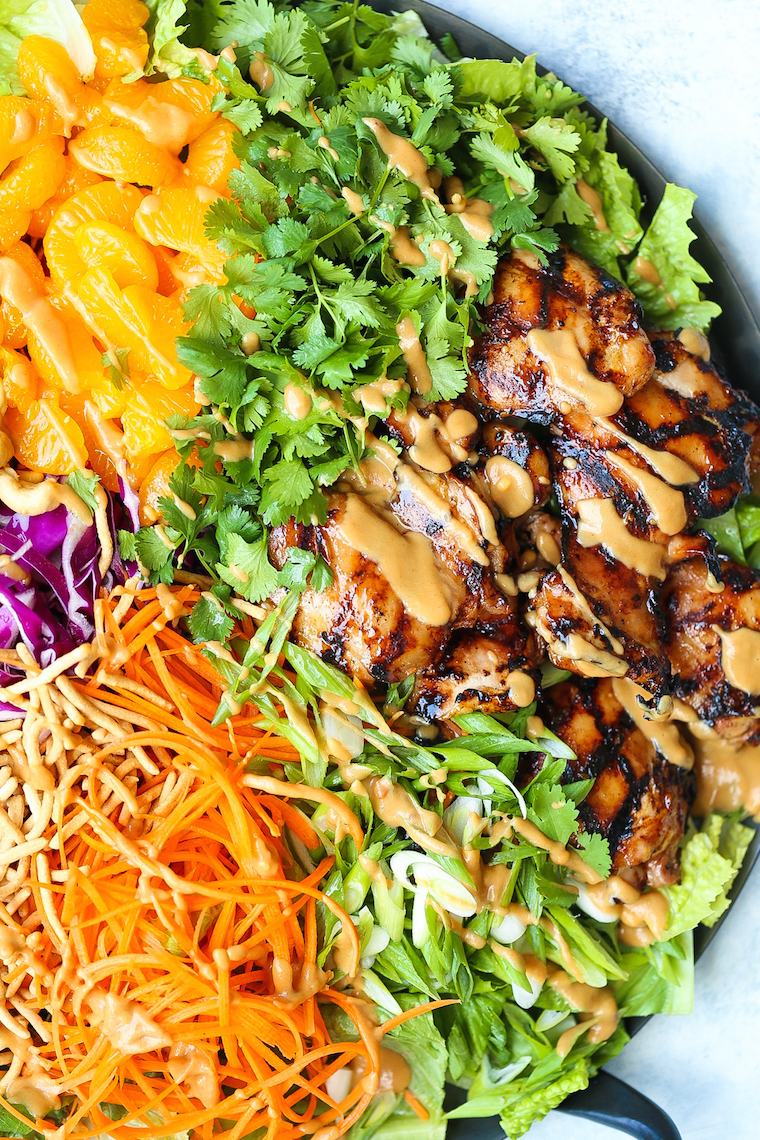 Disclosure: This post is sponsored by Walmart. As always, I only partner with brands that I love and truly believe in, allowing me to create more quick and easy recipes to get us through the week without breaking the bank. All opinions expressed are my own.
Asian Chicken Salad
With perfectly juicy, tender teriyaki chicken and the most amazing peanut dressing ever! It's quick, simple and perfect for a crowd!
asian inspired
Asian Chicken Salad
2 hours 15 minutes10 minutes
Chungah Rhee
Ingredients:
2 pounds Marketside Antibiotic Free Boneless Skinless Chicken Thighs
1 cup teriyaki sauce, homemade or store-bought
1 1/2 tablespoons canola oil
Kosher salt and freshly ground black pepper, to taste
1 head romaine, roughly chopped
2 cups shredded red cabbage
1 1/2 cups julienned carrots
3/4 cup crunchy chow mein noodles
1 (11-ounce) can mandarin oranges, drained
1/2 cup roasted cashews
1/2 cup chopped fresh cilantro leaves
4 green onions, thinly sliced
For the peanut dressing
5 tablespoons peanut butter
2 tablespoons reduced sodium soy sauce
1 1/2 tablespoons rice wine vinegar
1 tablespoon brown sugar
1 clove garlic, minced
Directions:
In a small bowl, whisk together peanut butter, soy sauce, rice wine vinegar, brown sugar, garlic and 1/4 cup warm water until smooth. Place in the refrigerator until ready to serve.
In a gallon size Ziploc bag or large bowl, combine chicken and teriyaki sauce; marinate for at least 2 hours to overnight, turning the bag occasionally. Drain the chicken from the marinade.
Preheat grill to medium heat.
Brush with canola oil; season with salt and pepper, to taste. Add chicken to grill, and cook, turning occasionally, until chicken is completely cooked through, reaching an internal temperature of 165 degrees F, about 10 minutes.
To assemble the salad, place romaine lettuce in a large bowl; top with chicken, cabbage, carrots, chow mein noodles, mandarin oranges, cashews, cilantro and green onions. Pour the peanut dressing on top of the salad and gently toss to combine.
Serve immediately.
Did you Make This Recipe?
Tag @damn_delicious on Instagram and hashtag it #damndelicious.